10 questions about my writing process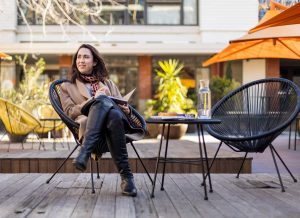 1. What inspired you to start writing?
I was an army brat, which meant every two years my family packed up our things and moved cities. This was well before the internet, and I was never a good letter writer. The only people that were constant in my life were my family and the characters in the books that I took with me move after move. It's not surprising that I escaped into story as a kid and that I would start creating my own.
2. What comes first, the plot or characters?
The characters. They tell me what the plot is—although I don't always agree with them! Trust me, there's nothing more frustrating than having a hero and a heroine who refuse to kiss. Technically Benedict came first. The rescue scene was the first one to come to me. It was Amelia's character that struck me hardest though. She drove the whole book.
3. How do you handle writer's block?
With lots of chocolate. Kidding. I don't need an excuse to eat chocolate. I usually need to talk to someone. There's something about verbalizing the problem that helps me solve it. Sometimes the block is bad though. I had a block with How to Deceive a Duke that lasted a whole year. I ended up talking with a writing coach who asked me a lot of questions until we identified what the block was. After that phone call, the words just came!
4. Describe your writing space.
I can write almost anywhere. My books have been written in my day-job lunch room, on my couch in front of the television, at coffee shops. I think it's because I used to teach in a high school, so I'm used to working in lots of different spaces. I do have a desk in front of a window, though, looking out onto our backyard.
5. What time of the day do you usually write?
Lunchtime is my best writing time during the week. I'm not good at mornings, so can't do anything before work. By lunchtime, I've ticked off a gazillion things from my to-do list and am feeling accomplished. I go for a 30-min walk and then sit down and write for 45 mins. Generally, I have a burst of guilt-driven writing at about 9pm as well, for 20-30 minutes before it's screens-off time.
6. Is there lots to do before you drive in and start writing the story?
I do a lot of thinking. I write notes about my characters' backstories and brainstorm scene ideas. Then I write what I can see. Sometimes what I can see is in order—like driving on a highway and being about to see as far as the headlights show (not my metaphor). Other times, I can see these scenes that happen further down the book and I write those. Then I have to go back in a structural edit and make them all feel like a coherent story.
7. How do you do research for your books?
Ugh. I'm not supposed to say this, because I write historical romance, and I'm supposed to love the history bit, but I don't really enjoy the research. It can take a lot of time; it's not always easy and it tends to take me out of the story. So, I write notes for each scene saying "research X" and leave it until after my structural edit. Then I go learn all of it at once and put in into the scenes.
8. How many drafts do you do?
Lots. I'd love to be someone whose first draft is fantastic and they don't need to touch it again, but that's not me. My first draft is just getting the story down. A lot of those scenes only have dialogue or have all these lines that just say "Insert description here." Then I do a structural edit, where I make sure that every scene has a purpose, there a no plot holes, there are no disappearing characters etc. For How to Survive a Scandal I had to delete 30 scenes. 30! If you sign up to my newsletter, I'll send you a couple 
After the structural edit is a front-to-back edit where I make sure it all flows. This is where it starts look read like an actual book. At this point, I'm still not worrying about how 'polished' the writing is. It's still full of cliches. Then I do my research edit, where I add all the bits and pieces that I've learned and then I go through and make it pretty.
And then it goes to my agent, who gives me feedback, which I action. And then it goes to my editor, where it goes through at least 3 rounds of edits before a copyedit and then a proofread. So it's a long, thorough process. I'm so grateful to all the people that help during this process—my critique partners, my agent, my editors. It really is a team effort to get it to publication day.
9. What was your favourite part, and your least favourite part, of the publishing journey?
Getting the email from my agent that Forever wanted to publish How to Survive a Scandal was a pretty incredible moment. We're on opposite sides of the world, so she couldn't call me. We were out on submission, so I was checking my emails every day even before getting out of bed. I didn't even finish reading the email before I called my writing friends. Their first comment was "Can you finish reading the damn email?"
10. Is writing your full-time career?
It's not. I work full-time in communications and marketing and write around work. I'm not sure if I'd ever want to give up the day job. For one, I like money and I like knowing how much my paycheque is going to be every week. Publishing is somewhat less reliable. I also think that I would get pretty lonely. I have great writing friends, but we don't live in the same city. I need the face-to-face connection that comes with going into the office every day. Otherwise, it's just me, my husband and my animals, and while I love them a lot, I need other people too